Preheat your sous vide bath to
183 F/84 C.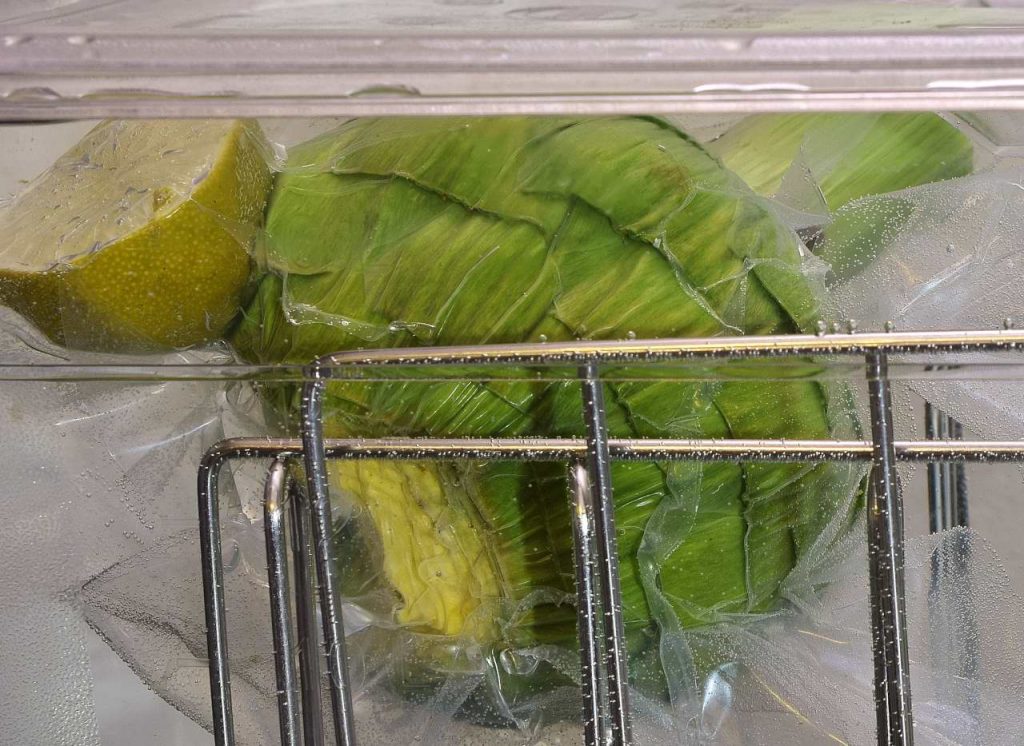 Use scissors to trim off the sharp points of the leaves. Cut off the top and seal in a heat rated bag with a wedge of lemon, lime, or a splash of vinegar to prevent darkening of the vegetable.
Process the artichokes at
183 F/84 C for at least 4 hours.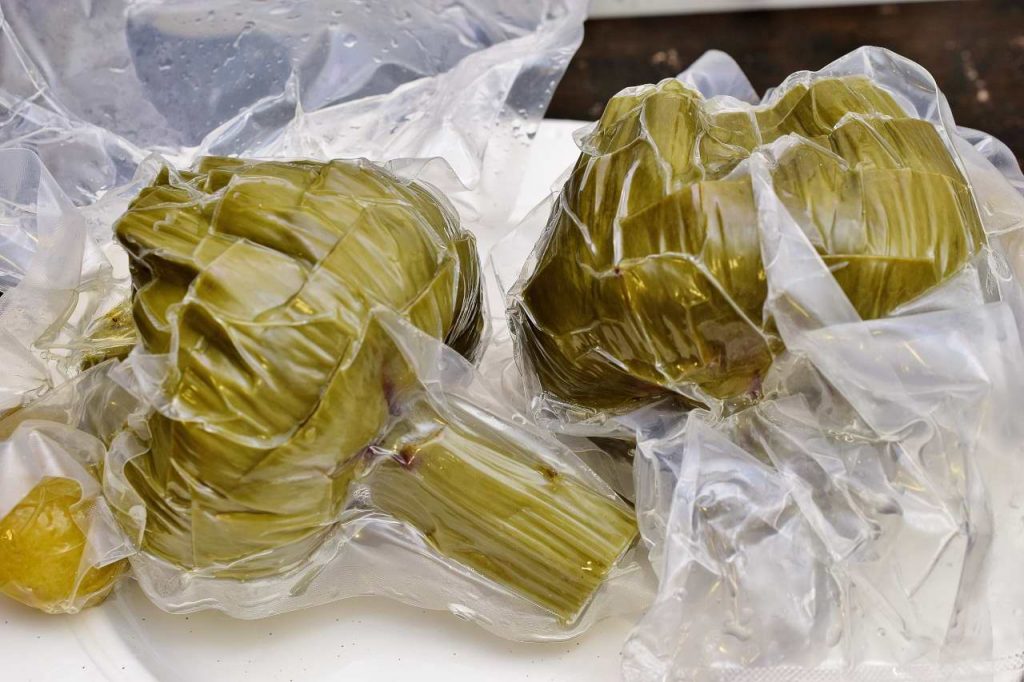 Artichokes are great for parties; a healthy alternative to chips and dips yet equally as communal and festive. It's easy enough to take advantage of the appearance of the vegetable that looks like no other.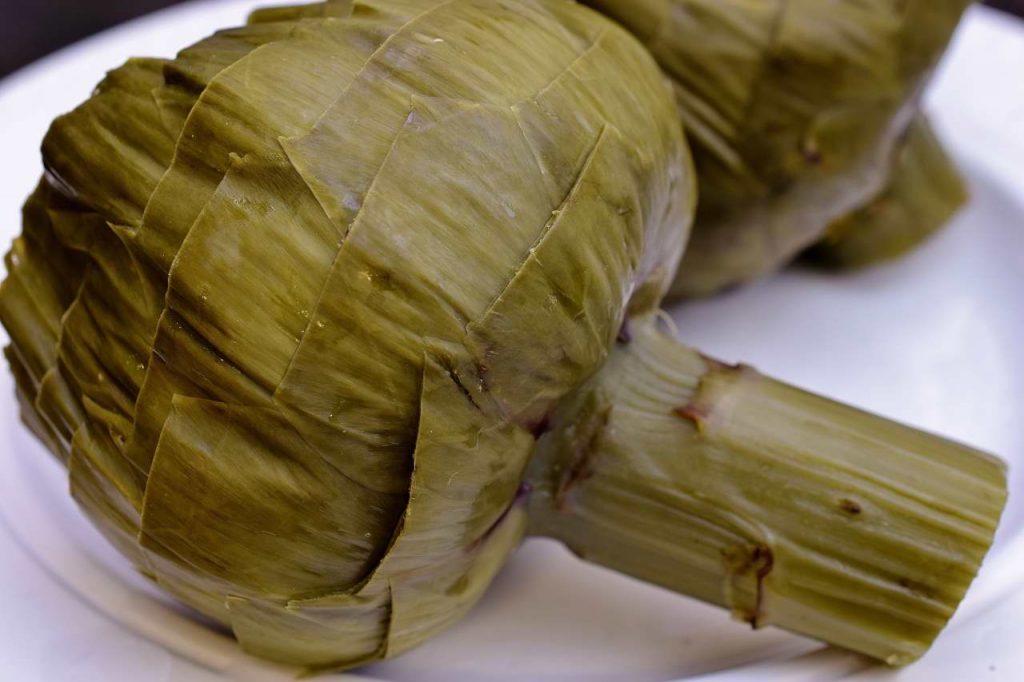 Traditional models frequently serve artichokes at room temperature, so the artichokes can be served "out of the bag" if desired. You can also cold shock them in ice water until they achieve 70 F/21 C and refrigerate at 40 F/4 C–they will keep for at least two weeks. Prepared by traditional means, artichokes should be consumed within three days. They really don't keep that well unless they are pasteurized and sealed.
Sweet and sour tomato emulsion
Ketchup, 2 oz/60 ml.
Vinegar, 1 oz/30 ml.
Corn syrup, 1 oz/30 ml (or 1 Tablespoon sugar).
Frank's Pepper Vinegar, 1 Tablespoon.Vegetable oil, 4 oz/120 ml.
Use a stick blender or blender to combine all the emulsion ingredients except the oil. Drizzle in the oil in a steady stream. It's as simple as that.
In the picture above, we simply worked our way around the artichoke, pulling off leaves towards the stem until we got close enough to the center to scrape out the choke with a spoon. Then it's a simple matter of arranging the leaves to look like a flower. Cut the heart into eighths and skewer.
Stage a dipping cup of mayonnaise, the classic accompaniment, and the sweet and sour tomato emulsion outlined above. Drizzle the flower with extra virgin olive oil, and, as always, a little bit of chopped parsley.
Artichokes are usually cooked whole, but not always.
For a more detailed discussion of different sous vide artichoke preparations, visit HERE.
When there is an abundance, they can be trimmed down and pasteurized to save space.
While more time consuming, these preparations can be used to create some novel effects.
Below, the trimmed artichoke hearts processed at
183 F/84 C for one hour shocked cold in the package to 70 F/21 C, and refrigerated at 40 F/21 C.
Plan on doing a couple, and then do a couple more tomorrow until you either get the hang of it or just get weary of it.
Above and below: Grilled in a cast iron broiler pan.
With a cilantro scented tempura batter and assorted vegetables,
artichokes add a vibrant and novel feel…
Below, deep fried without breading and then lacquered with demi-glace.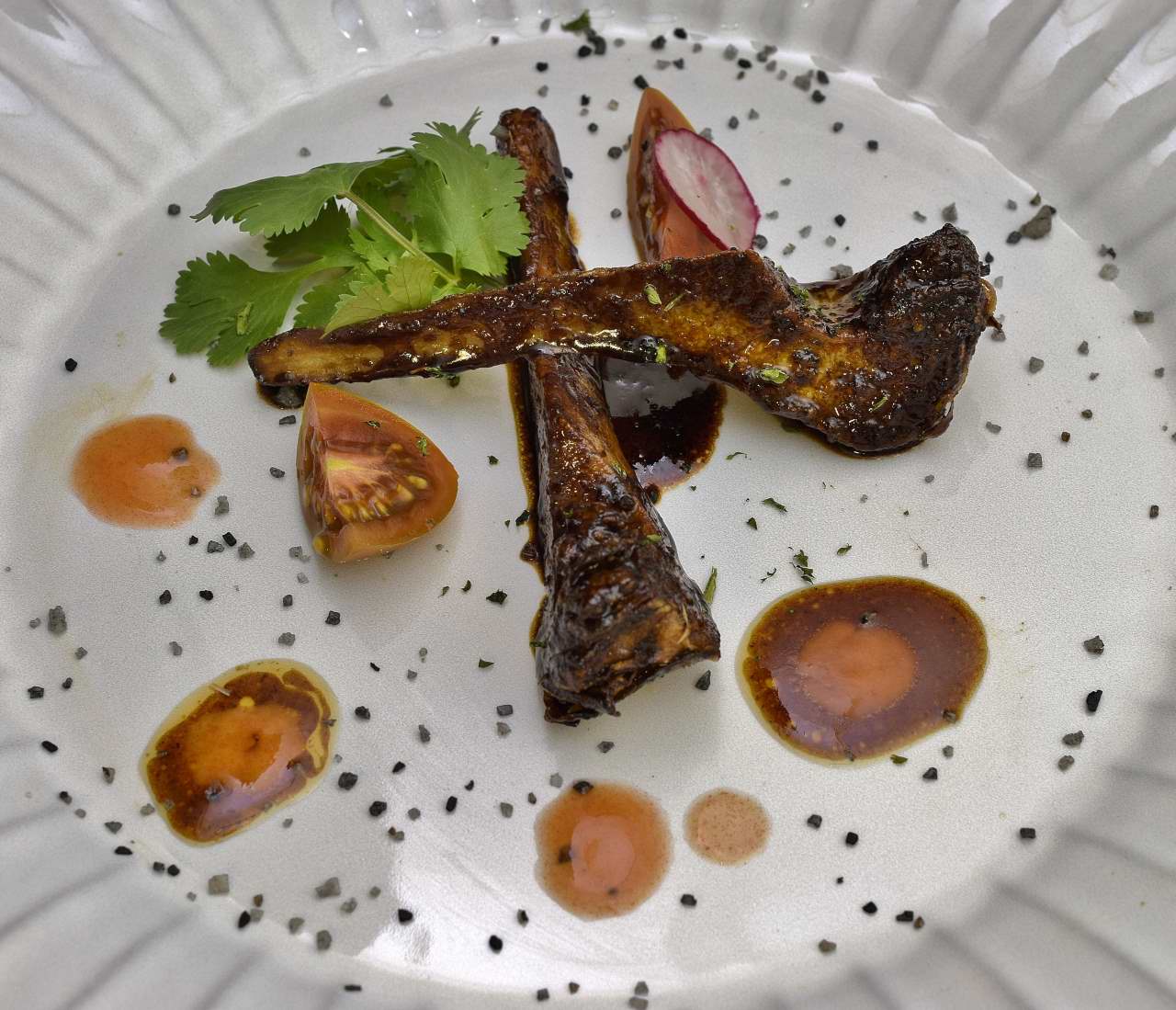 Artichokes are underutilized because they can be labor and time intensive. Handled properly, one artichoke can actually go a long way on its own, and even longer if it is used to highlight another item or two.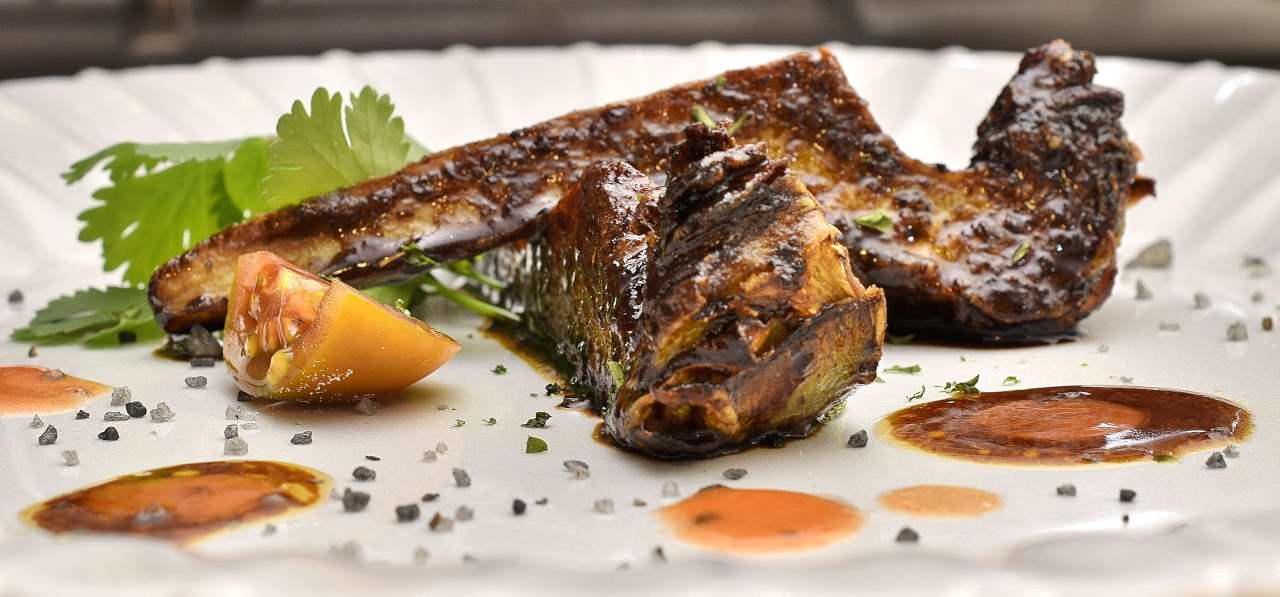 Once the artichoke is exposed to direct sunlight, the flower starts to open. The heart starts to shrink and the flesh toughens. Look for tightly gathered, large, globes.
Norm King