I first came in contact with Lipavi as a result of the FB Sous Vide group that I administer. I was skeptical at first. I had always improvised my vessels and racks. Anyway, I did some beta testing, and now we have decided to work together. I am so proud to be associated. At that time, the people at Lipavi just wanted an honest appraisal of function. Typically, I follow a credo, if I don't like a product, I say nothing. This is a great policy, albeit hard to stick to sometimes. As time passed, I started recommending Lipavi gear, because I just really fell in love with its engineering thoughtfulness.
Sous Vide is an Ocean, and We are Sailors
Lipavi designs equipment to perform that specific function, and then manufacturers are  carefully vetted to find the one that does the best job of producing it.  Knives are now part of our inventory, which I also beta tested with great results. I love a wicked knife. They are made from the very best Japanese VG10 steel, and hand crafted in China. Really.
People, working by hand, shaping each handle out of this incredibly hard substance that the language barrier has prevented me from fully understanding. I think it's some kind of fiberglass/resin model, but heat tolerant up to 280F. It is amazing to watch. Again, not designed to be cheap. Designed to be Good. Very Good.
I'm gonna need more of these things.
As time passed, we have realized that the racks had uses other than just organizing food in the vessel. Laugh if you will, it was I who discovered that they could be turned upside down and used to keep food submerged in the bath, if necessary. Once a hack, always a hack! They can be lifted out of the bath and put right in the cold water to shock, and then transferred to the fridge for further cooling and storage. They can be used as cold smoking racks, and I'm using some now to elevate some Lonzino and Braseola in the fridge. They're not actually just flat racks, they are "looped" to create a buffer zone between the products that they hold, necessary for SV.
When I first shared the multiple functions with my new friends at at Lipavi, they were more than a little shocked. Afterwards, we realized that whatever purpose they could serve just made them that much more desirable. The guiding principle is, if we design and manufacture a good product, and are willing to invest the time it takes for the market to catch up to the idea, our efforts will be rewarded. We may not change the world, but maybe we can rock it a little!
The gear comes in several different sizes, including vessels, covers dedicated to each particular IC for perfect fit, and dedicated racks.
If you go to this link, they show all the variations.
For people with some restaurant or at least steam table experience, it boils down to third pan size, half pan size, and full pan size.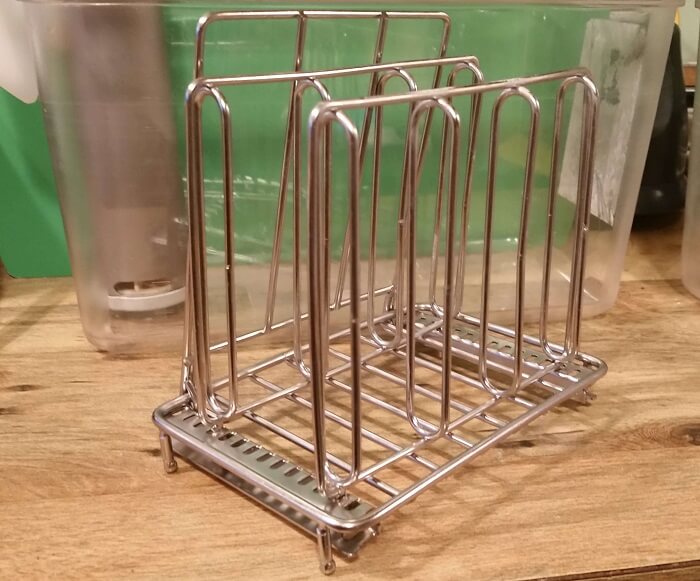 This is the rack that fits in the smallest, so called third size pan.
I use it a lot, but not quite as much as the next size up.
The outside panels fold over for easy storage, there's a lot of flexibility for configuration.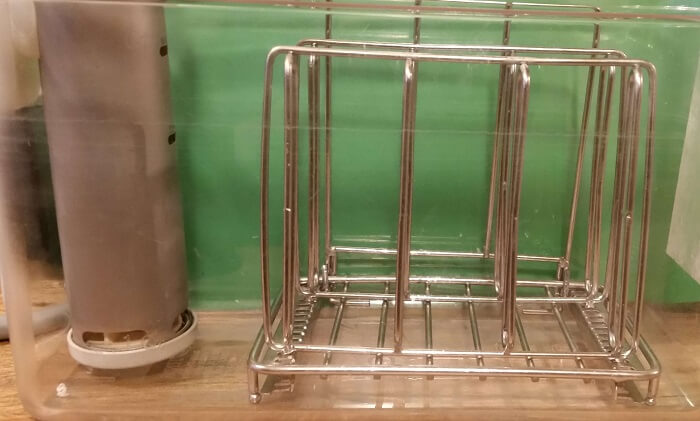 In the vessel, you can see the Nomiku original model there next to it, to give you an idea of the size.
Nice stands on the bottom to keep water circulating everywhere.
Because of the vertical configuration, and the height of the racks, a lot of processing can be done Sans Vide(tm), meaning, without going through the occasional torture of sealing the bags.
Lipavi was the first, and only one that I am familiar with, that offers this capability.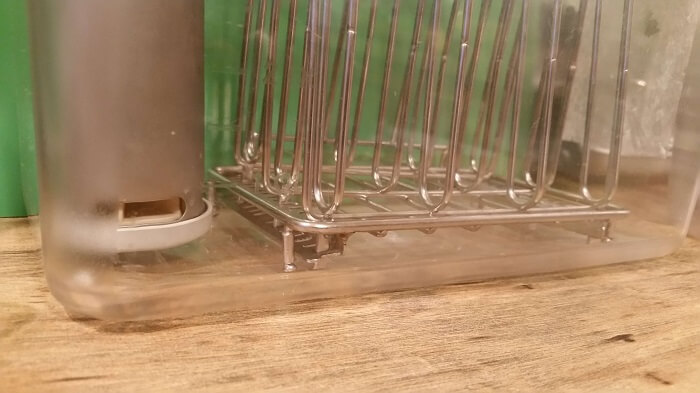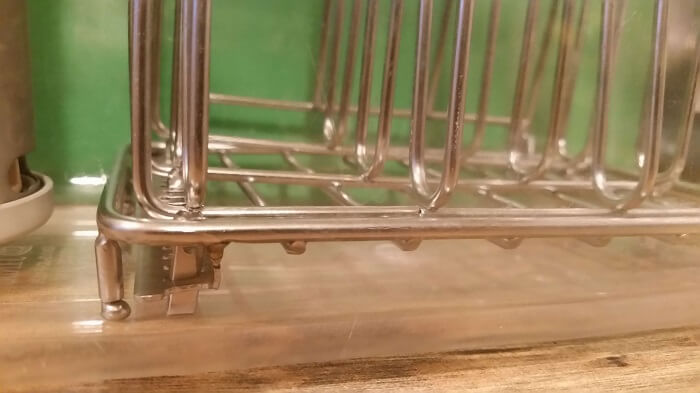 You can see the double row of slots to hold the racks secure.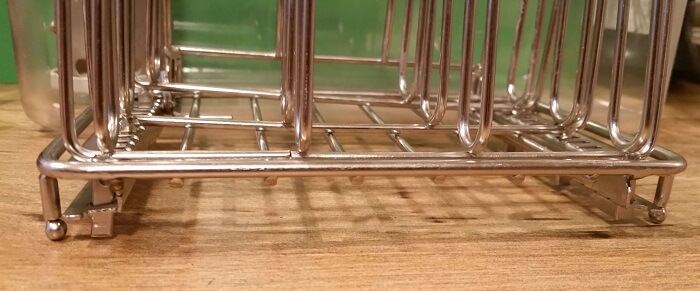 Very solid.
Bends and solder, all done by hand.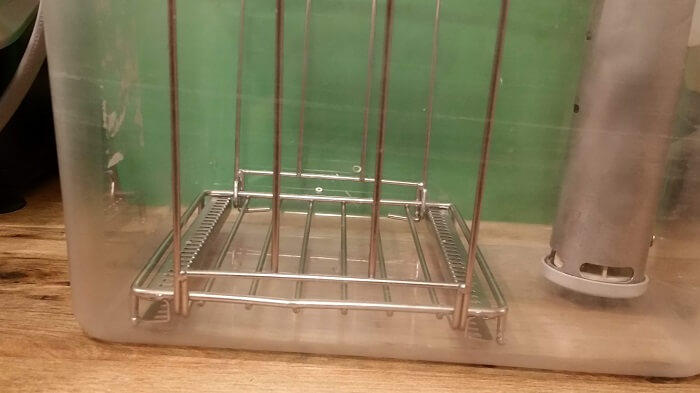 The medium size, so called "half pan."
It fits either way.
Upside down, too.

These things grow on you.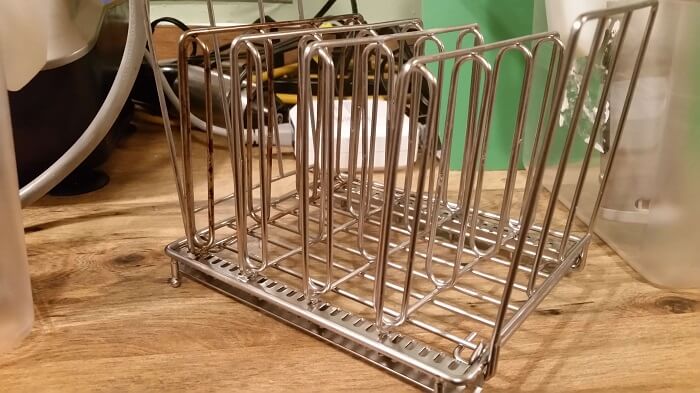 Four rack configuration, room for 4 large chicken breasts, for example.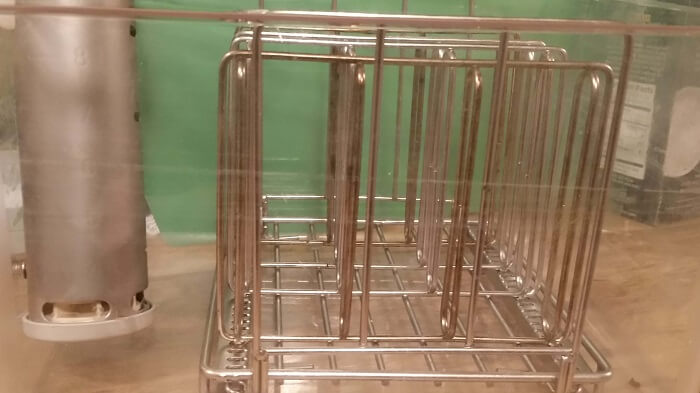 You can see how different these racks are from the basic improvised method.
The rack technology dragged a little behind the IC technology, apparently.
Until Lipavi came along.
We are constantly adding dedicated lids, as new models of IC are introduced, and, as I mentioned, we are now selling some wicked Japanese VG10 steel knives, again at Amazon.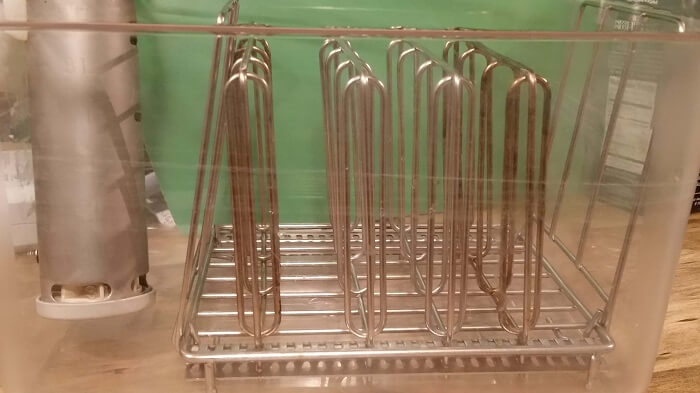 You can just see the hinge action, this makes storage a snap.
Stay tuned for more demonstrations of Lipavi racks, vessels, knives, and MORE, soon to come!